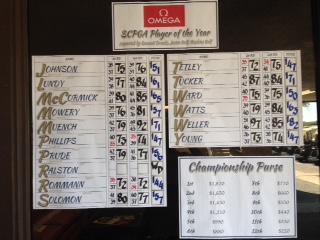 2015 South Central Championship Recap
BY twrommann IN GOLF BLOG On 17-09-2015
I am fairly pleased with how well I handled the conditions this week at the South Central Section Championship.  I posted rounds of 72-72 at the Crestview Country Club, North Course in Wichita, Ks. This was good enough for a 2nd place finish…
The wind blew 20-30 mph both days and this made the course play really difficult.  I felt like I played really good golf tee to green on both rounds with 13 and 14 greens in regulation.  I was challenged both physically and mentally handling the extreme wind conditions when putting.  I had trouble getting "comfortable" over many putts when my balance was thrown off by the wind and thus made too many strokes on the greens with low confidence.
Handling Windy Conditions on the Greens:
Some of the ways that I try to handle windy conditions is by widening my stance and flexing my knees more than normal to lower my center of gravity.  This is a putting characteristic that you will see an several PGA Tour players that play a lot of golf in the wind.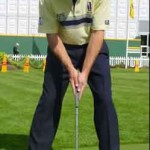 On a positive note…I did make a Hole in One on the 8th hole of the first round! Drinks are on me!
---
6 years ago / No Comments