How I do Golf Fitness, Flexibility & Mobility
BY twrommann IN GOLF BLOG On 03-05-2017
Trent Rommann Golf
Husband, Father, Collegiate & Professional Golfer
How I do Golf Fitness, Flexibility and Pre-Round Warmup
By Trent Rommann, PGA
Why is Fitness So Important to Me and My Golf Game?
Execution of a golf swing requires the body to have certain levels of flexibility, joint mobility, stability,strength, endurance, and power. This provides the golfer with the opportunity to execute a proficient golf swing.
If the golfer lacks in the required physical components of the golf swing, the ability to execute the swing may be hindered. The result of physical limitations is typically the development of compensation patterns to overcome these physical limits.  Most of the time…these patterns are what causes your slice!
The process by which the golfer can overcome physical issues affecting the golf swing is through the implementation of golf fitness. Golf fitness exercises focusing on: flexibility, mobility, stability, strength, and power.  All are needed to execute a proficient golf swing.
Physical limitations for many golfers, myself included,  are centered on a lack joint mobility in the hips, hamstrings, thoracic spine (area of upper back between the shoulder blades), and/or the core. A good starting point for most golfers is the implementation of fitness exercises to develop the required levels of mobility and strength in these areas of the body.
Joint mobility development is centered upon creating extensibility in the muscles surrounding a joint to allow for a full joint range of motion to occur. Several fitness routines can be utilized to achieve this goal such as static stretching, self-myofascial release or "rolling" (foam or PVC), and dynamic flexibility training.
Resistance training is by far the most common training modality to develop strength within the muscular system. The golfer has several different training tools such as; barbells, dumbbells, cable systems, exercise tubing, medicine balls, suspension trainers, and even body weight at their disposal to utilize for strength training of the core.
What do I personally need to do to become a better golfer?
Related Article: http://www.mytpi.com/improve-my-game/swing-characteristics/s-posture_v2
I have been working on posture since the Fall of 16'.  I struggle with "S" Posture due in part to my hamstring and lower back tightness.  I also focus on actively engaging my core to improve my posture
The S posture is characterized by an excessive arch in the lower back. This undue curvature puts high amounts of stress on the musculature of the lower back, deactivates the core, limits the functioning of the glutes, and is a precursor to a loss of posture or reverse spine angle in the backswing. All of which are very detrimental to the execution of a proficient swing.
The C posture is a posture that describes when your shoulders are slumped forward at address and you have definitive roundness in your thoracic spine (upper back) at address.
The two step process I use to improve my hamstring tightness (or any physical limitation). 
Step 1: Limiting hamstring tightness is creating pliability. The process by which I work on this is through self-myofascial release techniques. The most common tool utilized for this is the foam roller which over time will reduce the tension within the hamstrings.
Step 2: Improving hamstring flexibility is the implementation of flexibility exercise to lengthen the muscles. Static stretching and dynamic stretching movements are an ideal training technique for me to create mobility in the hamstrings once the tension is removed via foam rolling.
I Use These Dynamic Movements in the Gym 
Overhead Deep Squat -closed-kinetic chain dorsi-flexion of the ankles, flexion of the knees and hips, extension of the thoracic spine, as well as flexion and abduction of the shoulders.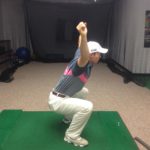 This is one of the best flexibility, mobility stretches that I do almost every day…it is also the BEST single test I know for a golfers flexibility, mobility and balance in the golf swing!
Related Article: http://www.mytpi.com/articles/screening/the_overhead_deep_squat_test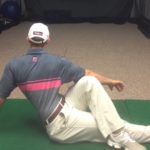 Hip flexor and lumbar back stretch
Hamstring stretch
Toe Touch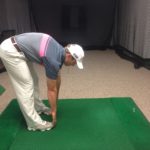 Toe Touch Modified with Table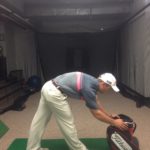 I Use these Dynamic Warmup Movements Before I Play Golf 
Karaoka
High Knees
Toe Pulls
Butt Kicks
Caterpiller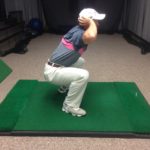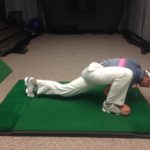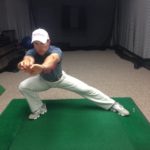 I use these Exercises in the Gym to Build Strength, Speed, & Stability
Back Squat
Front Squat
Deadlift
Power Snatch
Squat Snatch
Clean
Power Clean
Clean & Jerk
Jerk
Presses (overhead, bench)
I started using these exercises about 5 years ago in a beginner weight lifting class using PVC pipe and dumbbells to learn the proper technique.  I would encourage everyone to seek a qualified TPI Certified personal trainer to help you with your training program.
I also encourage everyone to seek alternative exercise techniques like:
Yoga
Thai Chi
Running or Walking
Pilates
Meditation
Be ACTIVE
How I test my Flexibility, Strength, Stamina & Proprioception
Strength
Vertical Jump (PGA Tour Avg: 18-22'')
 
Lying Ball Toss for distance (4 kg ball) (PGA Tour Avg: 18-20')
Seated Push Pass for distance (4 kg ball) (PGA Tour Avg: 18-22')
Shuttle Sprints
Push Ups (1 minute)
Sit-ups (1 minute)
Based on the three highlighted tests above, we can predict your potential ball speed within 2 mph!
Flexibility & Proprioception
TPI Player Evaluation (see your local TPI Certified Golf/Fitness Professional)
Speed
Please feel free to contact me with any questions about this article.
Cheers,
Trent Rommann, PGA, TPI
Related Videos: Golf Fitness Flexibility Exercises
Related Articles or Websites: Golf Fitness Flexibility Exercises
mytpi.com
http://www.mytpi.com/improve-my-game/swing-characteristics/loss-of-posture_v2h
http://www.mytpi.com/articles/fitness/how_important_is_lower_body_power_in_golf
---
4 years ago / 18 Comments
Tags:
balance
,
distance
,
fitness
,
flexibility
,
Golf
,
golf exercise
,
golf fitness
,
golf health
,
health
,
speed
,
titleist performance institute
,
tpi