How to pick the perfect putter and what you should be looking for in your next putter purchase.
When it comes to putters there are so many options to choose from.  Many times, we simply pick a putter off the rack, like the way it looks and hit a few putts with it…only for that "magic" to wear off a few rounds down the road.  It's time we put a little science behind our putter choice, it can only help you!
Where to start…
Do I have a straight back straight through stroke or an arcing stroke?
Straight back straight through stroke: it is exactly what it says. This stroke will follow a path that is directly backwards from the ball and a follow through that is directly forwards after the ball.  The putter face should remain square during this stroke as much as possible to achieve consistent direction.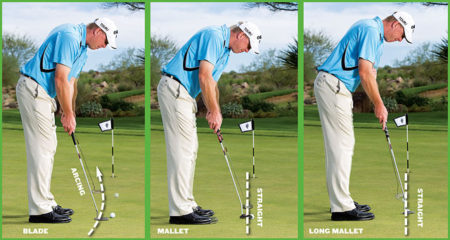 Arcing stroke: The key to this motion is to keep the putter face 90 degrees (perpendicular) to the path of the arc itself. If that sounds difficult, consider this. In the uncompensated arc stroke, the shoulder motion returns the face to square if there is no rotation of the putter face in relation to the arc.
VERY IMPORTANT
The average golfer can fluctuate between both strokes from time to time and often miss hits his/her putts. This is where the average golfer can benefit, in my opinion, from a larger mallet style putter that is face balanced with a higher MOI.
What is a face balanced putter?
Face balanced mallet putters (like the one pictured here) offer a golfer more consistent contact, improved distance control, putts that start on line more often and generally more putts made and less 3 putts.
What is MOI?
MOI or Moment of Inertia in a putter is a measurement of its resistance to twisting on off-center hits. The greater the figure or MOI, the more stable your putter will be.  Weight is often moved to the outside and rear of the putter to increase the MOI.  (See image below)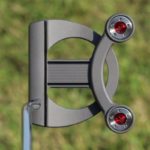 Putter Options for a Straight Back Straight Through Putting Stroke:
Related articles: http://www.golfdigest.com/hot-list/golf-clubs/mallet-putters
Putter Options for an Arcing Putting Stroke:
Related article: http://www.golfdigest.com/hot-list/golf-clubs/blade-putters
I hope this article clears up a bit of confusion for the average golfer out there looking for the proper putter.  Still not sure what putter you should be using or what type of stroke you have?  See your local PGA Professional and he/she should be able to diagnose your putting stroke and get you well on your way to the best putter for your stroke!