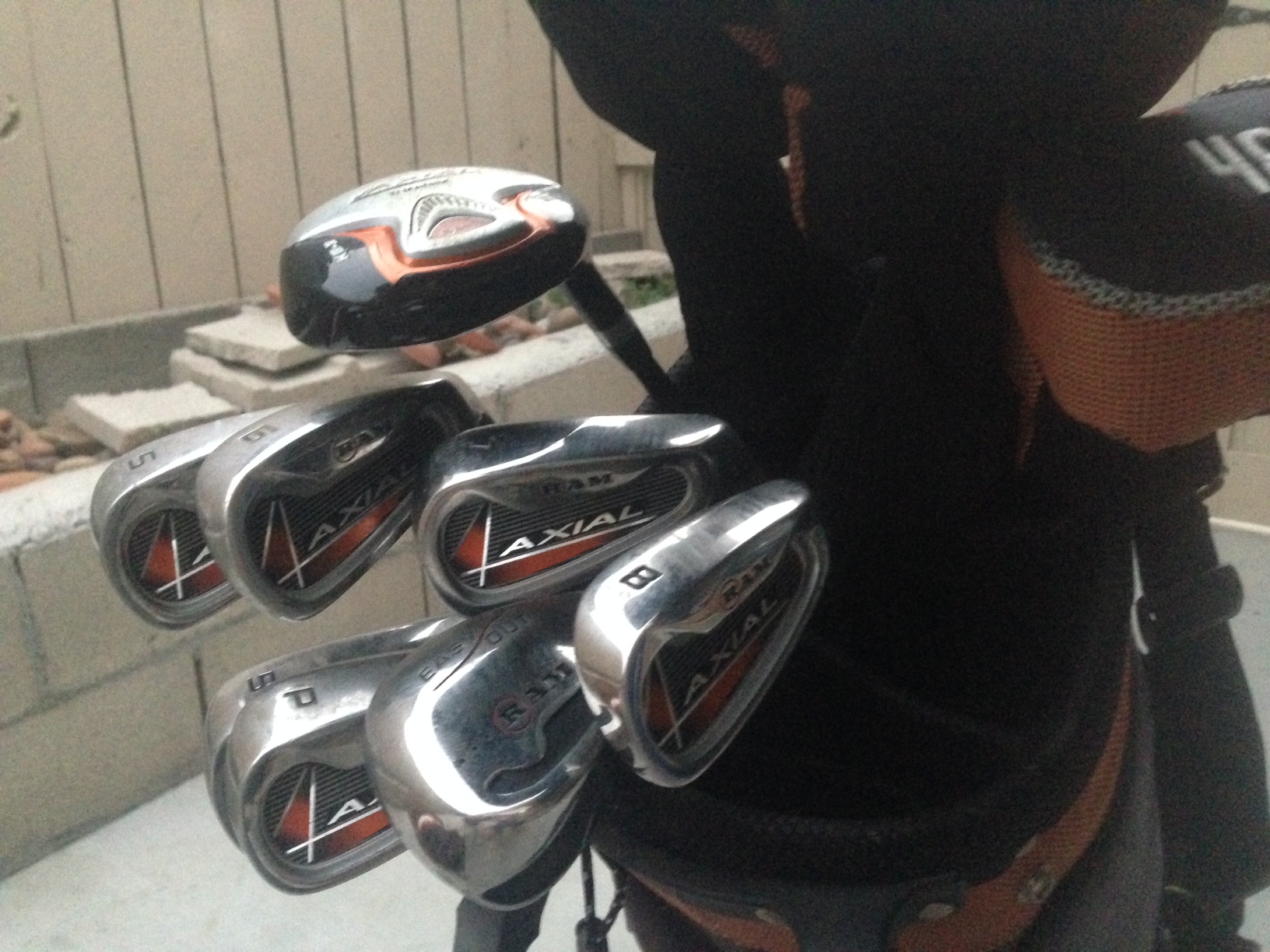 My round with an "off the shelf" 1990's set of RAM Golf clubs
What I noticed:
They were not very forgiving
Not fit to me: my height, swing, speed or ability
I Shot mid 80's at a scratch or "0" handicap
I lost significant distance on every club, especially the driver
Shaft flex, shaft weight and head weight made it very hard for me to feel where the club was during my swing
Wedge: very hard to hit, almost TOO much bounce (Ram Easy Out Wedge)
Hard to hit out of bunkers (Ram Easy Out Wedge)
If you are going to play the game, invest in your enjoyment. I did not enjoy my round of golf, it was very frustrating
My suggestion for the novice golfer looking to start or improve at golf is to invest in clubs that fit you. Now I'm a person on a budget like everyone else so I'm not suggesting they are new. Just that they fit YOU.
STEPS to take before purchasing clubs:
Know you swing speed
Know your lie angle
Know your length
What kind of shaft you need (steel or graphite)
You can do this at most golf shops for $50-100 and this will save you time and money in the long run and give you a better idea of what to look for.
What to do with the money you saved on used clubs?
One of the best ways to "enjoy" the game of golf is through lessons. If you have $500 to spend on golf (golf can be pretty expensive) I would buy a used set for a few hundred and spend the rest on lessons. (balls, just find those in a pond. Don't spend money on high priced balls as you will notice no difference)
Fitting used clubs
You can take most used sets to a club store or pro shop and they will bend, cut or regrip all your clubs for $100-$200 (total). Now you have clubs that fit you and give you the best chance to succeed.
Here is what the price breakdown would look like:
A) Grips: $8-12 per grip (14 clubs) $112-168
B) Loft & Lie: $2-5 per club (14 clubs) $28-70
C) Length: $5-10 per club ($14 clubs) $70-140
Total: $210-378 for adjusts on EVERY club (not very common)*
*drivers, fairway woods and hybrids are generally fit to flex, not length and lie)
Speaking in general terms, most average height males can fit comfortably into std length clubs.
IMPORTANT NOTE:
Again, It's a good idea to know your swing speed and what shaft you fit into before you make your club purchase. This will save you time and money overall.
Speed chart:
If you only play once per year and don't have the money for a fit set of clubs…(which aren't that expensive used) then please set you expectations of golf very low. Understand the game is hard and plan you score and round of golf accordingly
Bring extra balls (in your bag and in your pocket)
Bring extra beer
Know you will hit bad shots
Don't play by the rules: you have already set yourself up for failure if you purchase a "off the shelf" set of clubs so playing the exact rules of golf doesn't make any sense
Mulligans are ok
Drop a ball anywhere
Extra putts
Gimme's inside 3-4 ft
Play up a tee…maybe 2
Don't hit many drivers…drivers are hard to hit and when it's not fit to you it's even harder so take it easy on the "big dog" and hit a few hybrids or even irons.
HAVE FUN and if you really enjoy the game with your "off the shelf" clubs…just imagine how much you will enjoy it with clubs that are made to help you!
Trent