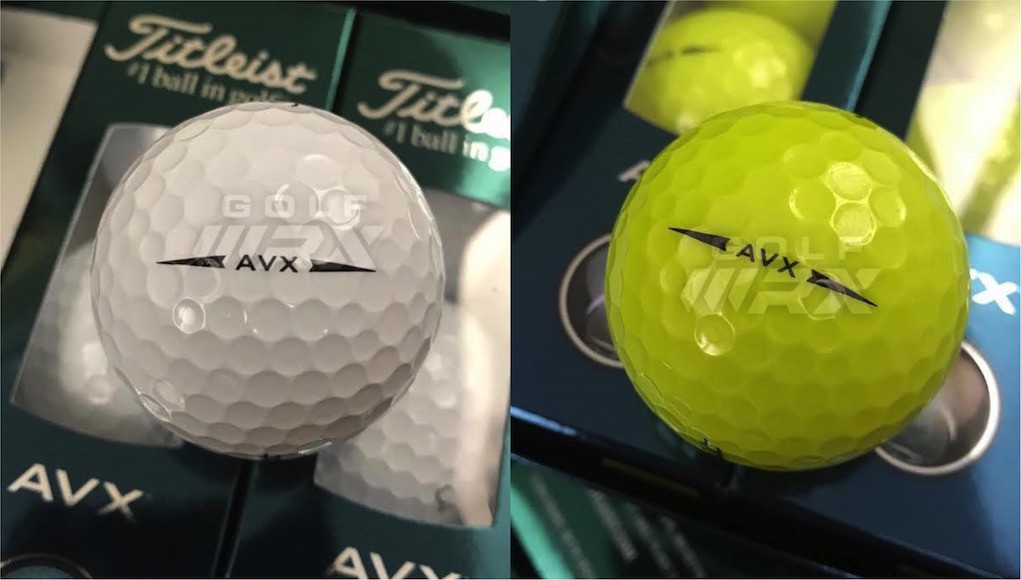 Titleist AVX Golf Ball
Technology:
CORE – An innovative, high speed, low compression core results in a powerful engine to drive remarkable distance with exceptionally soft feel.
COVER – A proprietary GRN41 urethane cover delivers premium scoring control with exceptionally soft feel and long-lasting durability.
CASING LAYER – The high flex casing layer enhances speed and controls spin to promote even greater distance.
AERODYNAMICS – Unique 352 Tetrahedral Catenary Dimple design delivers optimal flight consistency on all shots.
Why should I play the AVX and NOT the PROV1X?
One word…DISTANCE
AVX: It's all in the core…The AVX contains a "high speed," low-compression core that's designed for a softer feel and more distance. There is also a "high flex casing layer" to enhance speed and control spin. The "GRN41 urethane cover" is said to deliver scoring control, a soft feel and durability.
Notes: At $13.50 per sleeve. AVX IS SAME PRICE AS PRO V1 AND PRO V1X
My Review: I really enjoyed hitting the AVX golf ball.  My first impression off the club face was very soft.  I didn't notice not much difference from the ProV1X golf ball.  I had hit about 20 balls with a 7 iron using both balls, and if blindfolded, I would not have been able to tell the difference between the two. (Nor would I have hit the ball…blindfolded:)
Reviews from our Members: Our members at Crestview Country Club have really had positive reviews of the ball so far.  Bill Anderson, a longtime ProV1x player and a 10.3 handicap, has been playing the AVX for over a month now and says; "I hit the AVX longer than the ProV1x.  The AVX is a lower spinning ball which is perfect for my game.  I needed a shot to come into the green and release a little bit and the AVX ball does that for me".  However, Mr. Anderson made an important point for any potential AVX player, "They do not float, so hit em' straight and avoid the water!" Many Crestview golfers have seen gains in distance similar to Mr. Anderson on both irons and the driver.
Reviews from the Pro's:  James Bolton, Golf Professional at Crestview Country Club took the AVX out on the course for a trial run. He noticed increased carry distances on all irons but not much distance gained on the driver.  James swings the driver between 110-115 mph.
"By the Numbers" – My Distance Comparison : AVX vs ProV1X golf ball
Titleist AVX:
7 Iron Average Distance: 194.9 yards carry  (15 balls)
7 Iron Longest Shot: 211 yards carry
Driver Average Distance: 301.4 yards total (10 balls)
Driver Longest Shot: 306.6 yards
Titleist ProV1X:
7 Iron Average Distance: 189 yards (15 balls)
7 Iron Longest Shot: 209 yards
Driver Average Distance: 304.8 yards (10 Balls)
Driver Longest Shot: 308.6 yards
I hope you enjoyed my review of the NEW Titleist AVX golf ball.  If you have any comments or questions make sure you add them below and I will answer them asap!
Fairways & Greens,
Trent